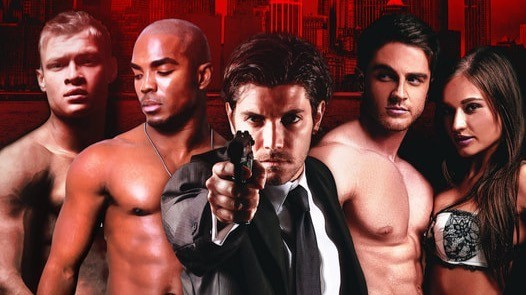 Jake Biondi Strives to Bring Famed Books Series to TV
I recently traveled to the amazing city of Chicago for the first time and had the opportunity to connect with the amazingly creative and talented author of the BOYSTOWN book series, a fictional book series based on the famed gayborhood of the Windy City. Walking the streets of Boystown, it's as if the characters come to life. Jake Biondi is able to create a storyline that readers can't get enough of. Readers can currently get their hands on nine "seasons" of the books, that are now released into three Special Editions that contain three BOYSTOWN books in a single volume and feature new cover artwork by designer John Logan.
Because BOYSTOWN is written like a TV series, it reads quickly and keeps people on the edges of their seats. And, because of fans' comments that BOYSTOWN "needs to be on TV," Biondi is now working to bring BOYSTOWN to television.
Jake recently "converted" the books into TV script format and is working with a few people in "the business" who can help to bring BOYSTOWN to television.
"Writing the BOYSTOWN series has been one of the most fantastic experiences of my life. I have enjoyed every moment of the writing and marketing process. But what I have really enjoyed the most about the entire experience has been the interaction with the BOYSTOWN readers," said Biondi. "BOYSTOWN fans are—quite simply—the best. I have been so touched and humbled by the outpouring of kindness and support I have received from BOYSTOWN readers since the moment the first episode hit the internet in 2013. People began to email me from all over the country, and beyond, to share with me their thoughts and ideas about the BOYSTOWN characters and storylines."
Biondi makes it a priority to respond to every email that he receives.
"I want to hear from them–their ideas, their suggestions, their reviews, their feedback," he said. "I want my readers to understand that I want them to reach out to me."
Readers can actually impact what happens to their favorite characters. Biondi has written some of their suggestions into the series.
That same fan engagement carries forward to the TV series. Now, fans can help "cast" the first season by nominating and voting on actors to portray the cast of characters for the first TV series through a new feature on QLife's website. This is a fun way for readers and fans to be an interactive part of the series.
Visit qlifemedia.com/boystown To submit a nomination. Read character descriptions and complete the nomination process (including self-nominations). Nominations open October 1, voting begins October 15th.

VISIT QLIFEMEDIA.COM/BOYSTOWN TO NOMINATE AND VOTE FOR TV CAST MEMBERS